CHASE: Frequently Asked Questions

As questions come up they will be added to this page.
If you do not see an answer to your question please email us at info@chase-alliance.org.
Upcoming Events

Ashburn: August 2013

Chincoteague: October 2013
---
What is a feral cat?
A feral cat is a cat who has either never had any contact with people or her contact with people has diminished over time. She is not socialized to people and survives on her own outdoors. Most feral cats are not likely to ever become lap cats or enjoy living indoors.

Outdoor cats have existed alongside humans for 10,000 years. They are not a new phenomenon. Feral cats are members of the same species as pet cats—and are therefore protected under state animal anti-cruelty laws. The difference between feral cats and your pet cat is that they have had little or no contact with people, and so they are wary of us, and cannot be adopted. They have a home—outdoors. They live and thrive in every landscape, from the inner city to rural farmland. Since feral cats are not adoptable, they should not be brought to animal pounds and shelters, because there they will likely be killed.
How much does the spay/neuter surgery cost and what is included?
The spay neuter surgery package through CHASE currently costs $45. Our surgery package includes the spay/neuter, ear-tip, rabies* and distemper vaccines, antibiotics, pain medication, fluid treatment, and a de-wormer.

*To ensure compliance with Virginia Law, a rabies vaccination will be given to all animals 4 months or older that have not been previously vaccinated or lack of proof of vaccination.
Volunteering
Clinics are open to volunteers of all experience levels.

Each clinic event will have a sign-up posted online. When signing-up please read all station requirements as some require a Licensed Veterinary Technician (LVT) License and/or a rabies vaccination.

We have split our local one day clinics into two 5 hour shifts. If you would like to volunteer for the full day please sign up for both shifts.

At each event you will be required to sign-in and fill out a release form. To make the volunteer sign in faster please print the form to the right and bring it in filled out.

Clinic attire. Please where close toed shoes and long pants.

Doctors and LVTs in attendance, please bring a copy of your license for our records.

What is an ear-tip?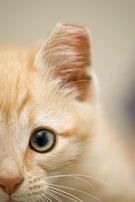 We use the word "ear-tip" to describe when a small portion of a feral cat's left ear (3/8 inch or 1 cm) is surgically removed during the neuter procedure. Ear-tipping is done while the cat is anesthetized and is not painful for the cat.
Ear-tipping is the most effective and universally accepted method to identify a spayed/neutered and vaccinated feral cat from a distance, to make sure they are not trapped or undergo surgery a second time.

---
Why not trap-neuter-relocate?
Removing cats from an area by killing or relocating them is not only cruel—it's pointless. Animal control agencies and city governments have blindly perpetuated this futile approach for decades. But scientific research, years of failed attempts, and evidence from animal control personnel prove that catch and kill doesn't permanently clear an area of cats.
Scientific evidence indicates that removing feral cat populations only opens up the habitat to an influx of new cats, either from neighboring territories or born from survivors. Each time cats are removed, the population will rebound through a natural phenomenon known as the "vacuum effect," drawing the community into a costly, endless cycle of trapping and killing.


---
CHASE is a 501(c)(3) non-profit organization.