Grace Anderson Memorial Fund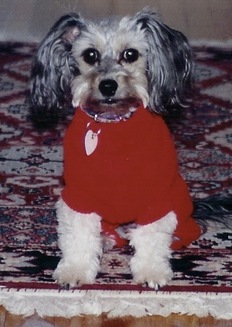 About Grace
Grace came into our lives when she was about two-years-old. I was volunteering at a local animal shelter when the Animal Control Officers found her abandoned. She was so small (7 pounds) that no one wanted to put her in a cage, so they left her in the office with me. Grace walked over to me and stood on her hind legs for me to pick her up. She spent the afternoon in my lap watching me file adoption applications, and I became an emergency fosterer while we waited for her family.

Several anxious days later, my husband and I were allowed to adopt her. She quite simply became our daughter. I could write volumes about the many wonderful and incredible experiences the three of us shared over the 14 years we had together. I had dogs before and since, but she was my forever, irreplaceable love.

Grace was always the perfect lady, and I could depend on her impeccable behavior under all circumstances. Grace flew with us regularly and was a charming, welcomed guest at many fine hotels across the United States and Canada. During flights, I would sometimes sneak her from her carrier, place her in my lap, and cover her with the airline blanket. She was so quiet that no one ever knew. As she aged, I avoided travel, not wanting to miss even a moment with her.

My profound grief when she died unexpectedly found purpose when Dr. Vitulli established this memorial fund in Grace's honor. Now, our Grace will live on in the lives of homeless dogs and cats who find permanent, loving homes because of the care they receive at one of the Caring Hands locations, through the Grace Anderson Memorial Fund.

---
---
Applications:
Please fill out the form below and submit to
info@chase-alliance.org
.
Every field must be completed to be considered.
---
Donations:
If you are interested in contributing to this fund to help pets in need, please send your donation in the form of check or money order to:

The Grace Anderson Memorial Fund
5675 Stone Road, Suite 200
Centreville, VA 20120